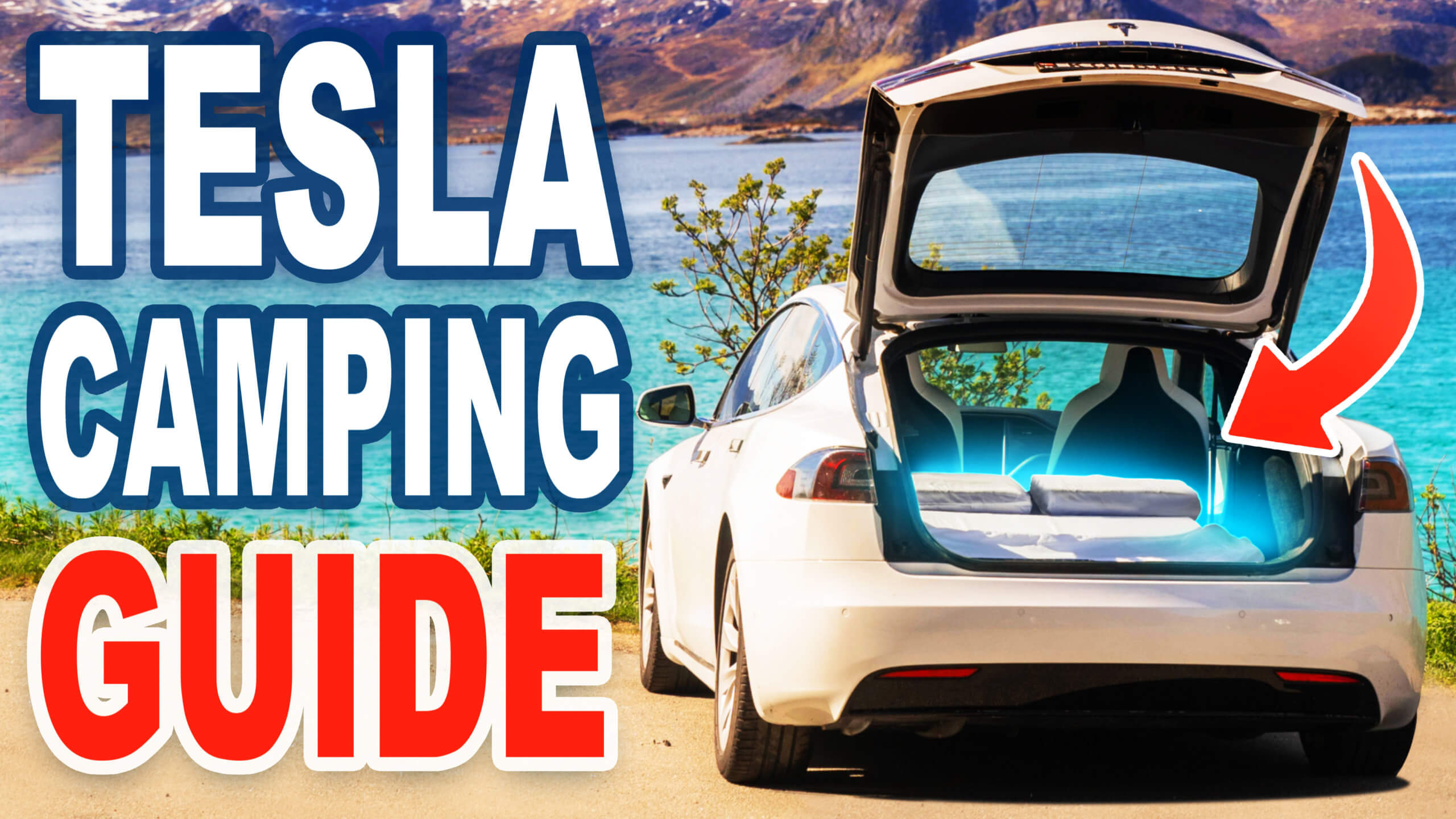 Do you want to take your Tesla experience to the next level? If so this guide is for you. I'm Eli Burton of The Tesla Owners Club My Tesla Adventure, and this is the official Tesla Car Camping Guide.
I started car camping back in 2017 with my Model S 75. Over the last 4 years of camping around the world in Tesla I've learned alot and put that experience into this guide.
What's in this Video:
How to set up the bed in your Tesla
How to use camper mode
Where to store your gear while you sleep
How much range does camp mode consume
And More!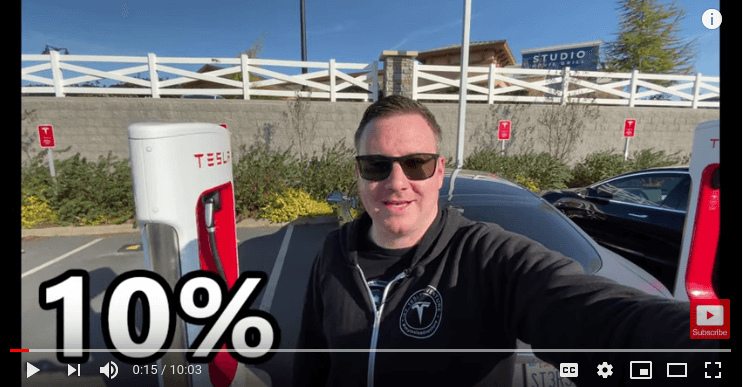 In a new video on YouTube, Eli shows us the speed of supercharging a Tesla with both V2 and V3 Superchargers.
Eli's test will show you how long it takes to charge his Tesla Model S Raven. For the first part of the test, he charges his Tesla at a V2 Supercharger and it was at 10% charge. He charged it up to 80%. After about five minutes, Eli realizes he's getting charge of 54 kilowatts despite the fact that the max charge is 150kw. Eli explains that this is split between two stations. The total charging time took 57 minutes and 21 seconds which is roughly an hour.
The next day, Eli goes to the Tesla Factory to test the V3 Superchargers and arrives, without even trying, just 10% battery. At the V3 Supercharger, it starts off a little slow. It was a little disappointing for Eli, who wanted to get to that peak charge rate. However, it wasn't all a loss and Eli explained why.
At the V2 Supercharger, he had to share his charging power with others. At the V3 Supercharger, even though Eli had folks charging on either side of him, he didn't have to share his charging power with them. He was still able to get up to 155kw of charging power. Eli points out that this is game-changing for Tesla because it allows Tesla to support twice as many cars with the same number of Superchargers since each car spends less time charging at V3 chargers.
At the V3 Supercharger, it took Eli 48 minutes and 32 seconds to charge his car from 10% to 80%. That is just 9 minutes less and to some, that may not make a difference, but overall it will once Tesla upgrades all of the Superchargers to V3 or at least those in Tesla dense cities.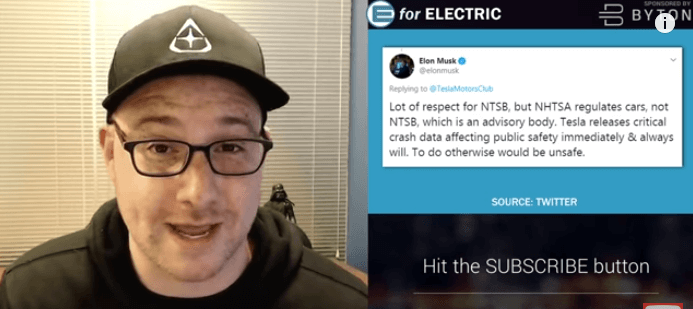 The National Transportation Board made it's ruling in the March 23, 2019 fatal crash of Walter Huang. Huang was driving his Tesla Model X when it veered out of its lane. Autopilot was enabled and it ran into a center divider and Huang paid the price. However, even though Autopilot was blamed, the fact that Huang was playing video games and not really paying attention to the road needs to be emphasized here.
Even though he's not that big of a fan of Autopilot, Alex with E for Electric doesn't get why Autopilot and pretty much everyone but the driver was blamed. The issue that I really can't stress enough is that you as a driver should pay attention to your surroundings. Also, Tesla states it very clearly on its website that Autopilot isn't fully self-driving and that the driver needs to be able to take over at any second. In other words, don't play video games.
Eli starts with a little bit of background on the crash–it's a Model X whose owner worked for Apple and who drove it into the median. One thing that the NTSB found was that there was supposed to be a guardrail that should have been there. It was damaged eleven days prior. The damage wasn't reported by local authorities and that's why it wasn't there–it could have prevented Huang's death.
Tesla, even though the NTSB didn't like it, released its data and it showed that the driver didn't have his hands on the wheel for at least 6 minutes. Tesla also showed that the driver had been warned several times to keep his hands on the wheel. The NTSB criticized Tesla for Autopilot "not doing enough" to prevent Huang's death.
The core theme of the video Eli spoke in is to highlight how absurd it was for the NTSB to blame Tesla especially since Huang was repeatedly warned to put his hands on the wheel and if he had been paying attention, he would have seen that his vehicle was about to steer him into the median.
What I don't understand is how people can just allow the vehicle to drive them into the objects, whether its a median, a fire truck or another vehicle. Common sense should kick in and you should take over. That's just my opinion there.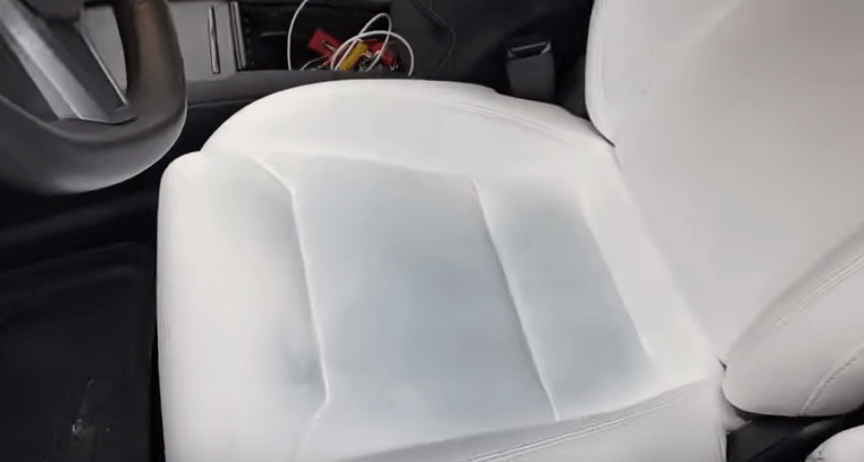 8 months ago, Eli bought his Tesla Model S Raven (Performance) and he had his white seats ceramic coated. He has put it to the ultimate test. The test was that Eli wanted to know if it actually worked and protected the white seats from becoming permanently stained by blue jeans.
For 8 months, Eli didn't clean his seats. Well, he vacuumed. He opens the door to his Model S to show you just how badly stained the seats are. In fact, the driver's seat has the most amount of stains. Eli explains that he drives a lot and is often alone when he does.
Next up, Eli mixes up the cleaning solution to clean his seats. He starts adding one ounce of the Optimum No Rinse Wash & Shine to a gallon of water then adds in another gallon.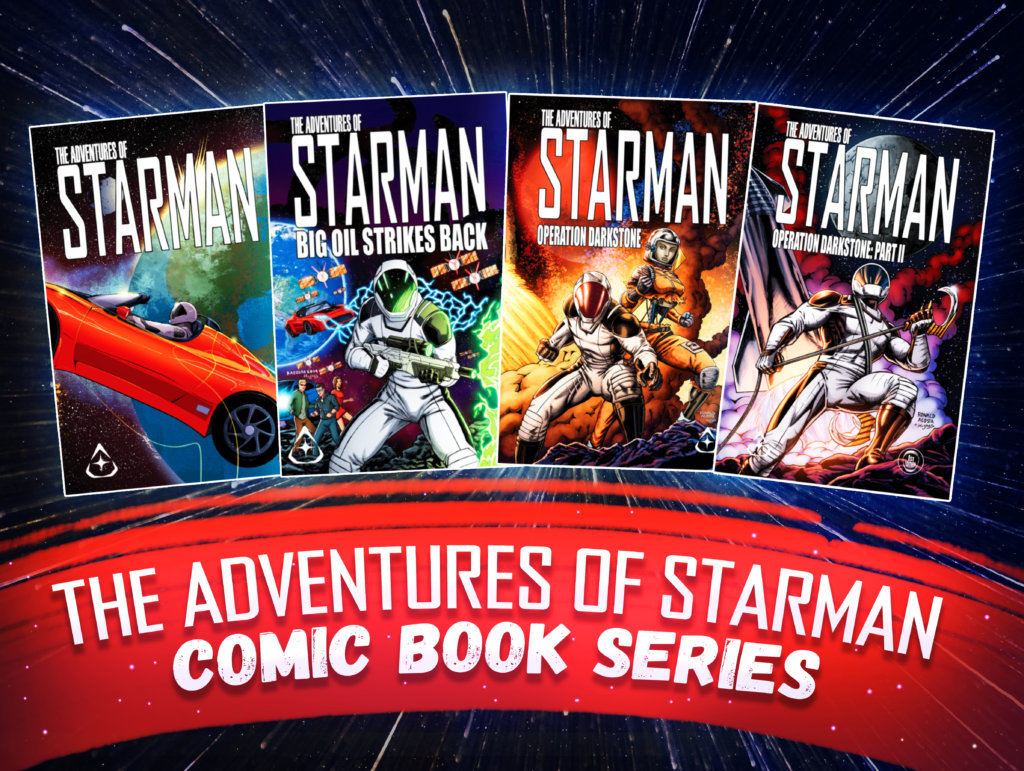 Before he cleans the seat, Eli uses blue tape as a divider to show just how effective this solution was on the seats. Then he scrubbed for around 8 minutes. After pulling off the tape to show the differences side-by-side, you can see just how effective ceramic coating is when applied to these white seats. "My seats still look excellent after they have been scrubbed," Eli says.
From what he could tell, the longer he kept scrubbing, the whiter the seats became. After all, 8 months is a long time.
Ceramic Coating for White Seats
Eli paid a detailer to take care of the ceramic coating for him since he was worried that he could accidentally mess something up. This was a brand new car–his dream car–and if one isn't sure of how to do something, it is wise to pay a professional to handle it. Eli paid over $500, which sounds expensive, but it's actually an investment to protect your seats.
Eli shares some products from Amazon for those who want to spend less and do it themselves. These products have been reviewed by Tesla owners. Recommended Ceramic Coating Solution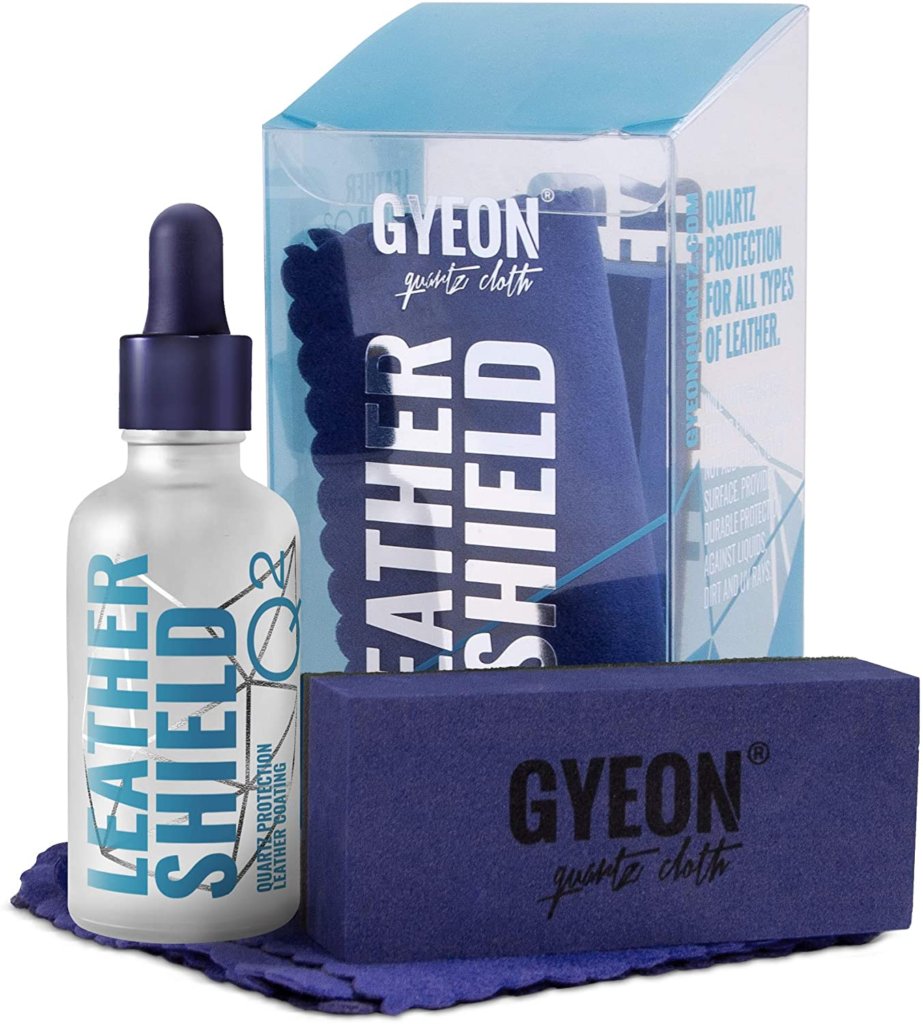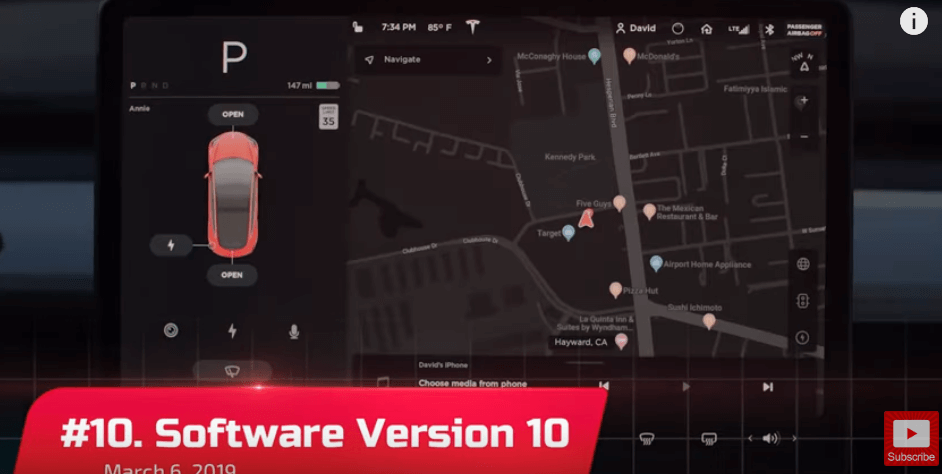 Eli Burton, the creator of The Adventures of Starman, gives us 2019's Top 10 Tesla Moments. Tesla has had a pretty swell year in 2019.
From the Chinese Gigafactory rising from the mud pits of nothingness to the unveiling of my future truck, the Cybertruck, it's been an epic year and a great ending to a decade of what seemed like uncertainty for a bit. Tesla had some struggles, especially in 2018, but those struggles became triumphs. 
10. Software Version 10. On March 6, 2019, Tesla released this update that included Theather Mode which included Youtube, Hulu and Netflix as well as more games–you can only access these while parked which is great for those who are supercharging their cars on road trips. Eli says that this just signals a focus by Tesla on the in-car experience.
9. V3 Superchargers. V3 Superchargers have a charging rate of up to 200 KW and a peak of 1,000 miles per hour of charge. Typical charging time of V3 will drop to around 15 minutes. This is quicker than my phone charger. Also, there are a few whispers about the Lafayette Superchargers being built are going to be V3, but that hasn't been confirmed.
8. Plaid Powertrain. The Plaid 3 motor powertrain should be coming to the Model S in mid-2020. A quarter-mile performance is expected to increase as well as track performance.
7. GIGA 3 Shanghai. This is a true story of an underdog. Many in the media said it would never happen, that this was just a Chinese mud field with nothing in it. Yesterday, the first Made-In-China Model 3 was delivered and there was a huge celebration. The Gigifactory in Shanghai is also the fastest factory ever built at its size.
6. Enhanced Summon. This improved the Summon capability to drive through and across the parking lot autonomously. It's taken the world by storm and the media decried it as something to be afraid of, but in the end, it's pretty simple and convenient. Tesla is taking the driving experience to an entire level–as in a completely new plane of existence.
5. Raven Powertrain. The Raven Powertrain increases the range and performance of the Models S and X Long Range. Drivers are allowed to travel farther than before and charge less frequently. In essence, they get more dollars out of every penny spent on charging–if they pay to charge. Many Tesla owners charge at home or work.
4. Model Y Unveil. Back in March Tesla unveiled the Model Y which looks as if the Model 3 and the Model X had a child that few up fast. It looks like a Model 3 with a hatchback. The highlight of the event, Eli says, was Elon bringing the history of all of Tesla's cars. I actually liked that part and Elon's little dance as well.
3. $35,000 Model 3. This was announced in Q1 2019 just after Elon said it may not happen. However, Elon wanted to keep that promise so it closed a few of its stores. I think that the reason why Elon was able to keep this promise is due to Tesla making progress in its battery development. I could be wrong.
2. Cybertruck Unveiling. Everyone was stunned with this beauty rolled out on to the stage. The moment I laid eyes on it, I fell in love. Unfortunately, I am one of the few people who reacted that way. Many members of the Tesla community were a bit freaked out then later fell in love. I mean, how can you not love this truck? It's so cool. But I collect pyramids and other cool minerals so I definitely appreciate the creativity in this truck.
The unveiling was unique as well. There was a hologram of Grimes and the entire stage was really lasered up. Tesla stunned the world with this angular designed truck. Franz breaking the windows is also a moment that will be forever remembered fondly by the internet. Equally just as surprising as the design of the Cybertruck is the starting price at $39,900. Elon followed up the surprise with an all-electric ATV that can plug into the bed of the truck and charge.
1. 3Q Earnings. I really thought Eli was going to mention the stock price hitting $420 but Q3 Earnings definitely earns this spot because no one, except those of us who believe in Tesla, saw this coming. Many in the media often repeat what short-sellers say about Tesla and fully believe Tesla is a failure. Elon is often mocked in the media and Tesla is touted as a luxury fraud by the uninformed. So when those numbers hit, shockwaves made their way into the bank accounts of those shorting the stock. Wall Street fully expected Tesla to sustain losses and it didn't. \Tesla believes it has grown to a point of being self-funding.
It is the night before Christmas and it is 2 AM. The only one stirring is Tesla's Starman (Eli Burton) as he sits in his Tesla opening the gift that Santa Musk has given. Eli aka Starman from My Tesla Adventure gives us a preview of Tesla's Full Self Driving technology and also a first look at Tesla's latest software version 2019.40.50.1 Update.Eli shows is several new and exciting things that came with this Christmas Eve update.
Tesla's New Full Self Driving Preview detects stop signs and intersection lights🚦video 🎥 by @EliBurton_ pic.twitter.com/DV4TWfEMXB

— World of Engineering (@engineers_feed) December 24, 2019
Updates
Driver Profiles.
New settings have been added in this update that will include navigation settings such as volume levels for navigation voice guidance as well as traffic display settings. Eli also points out how important Driver Profiles are for those who may share their car or have more than one Tesla. With this feature, Tesla makes sure that your car is exactly to your comfort levels from climate control to sound.
Save Dashcam Clips On Honk.
This would actually help Tesla owners in traffic to record proof of accidents that would help them in court. It would also remind us that sometimes honking is unnecessary and to be nicer to people on the road.
Adaptive Suspension Damping. Adaptive Suspension Damping now has three tailored modes:
Comfort provides a gentler ride and a more relaxed driving experience.
Auto replaces Standard to be more responsive to dynamic driving.
Sport continues to provide a firmer, more controlled ride that increases driver engagement and connection to the road.
TRAX v0.1.
You can make your own music inside a Tesla! Just like with the Tesla sketchpad for drawing, you can make an "audio masterpiece" with TRAX. Eli pulls up the app and loads it onto the screen and is a bit excited at the fact that you can actually mix music. There is also a keyboard and Eli breaks out a two-second jam session with Beethoven.
Voice Keyboard.
With this feature, you can dictate text into your car as I do with Google Text to Speech. Now people will blame Tesla for their typos. This feature is accessible by the microphone icon on the keyboard (like on the phone).
Games.
Backgammon. You can play against your passenger or against your Tesla. This actually made me think of the TV show, Person of Interest where Harold played chess against The Machine, an AI that he created.
Stardew Valley. The theme of this game is that you have inherited your grandfather's old farm plot and now you must learn to live off the land.
Tesla Theater. 
Tesla Theather now lets you watch Twitch streams in the app.
Camp Mode.
Tesla enables your car to maintain airflow, temperature, interior lighting and play music. You can also power your devices. This is the mode just for Eli because he loves camping in his Tesla. He explains why this update is vital. "It's always been a little frustrating for me that when I want to power something from the car I have to leave the door open to trick the Tesla into leaving the power on." Eli can't wait to try out this new Camp Mode.
Phone Improvements. 
Your Tesla can now read your texts to you and you can send text messages by saying them out loud to the speakers in your Tesla and it will send them. Eli sends himself a test message in the video and it's pretty funny to see Tesla helping him talk to himself.
Voice Commands.
You can say things like, "Show me the rear camera" and it will show you the rear camera. These commands have been rebuild to understand natural language. Tesla focused on commands that would minimize having to touch the screen so you can keep your eyes on the road. Reread that if you're shorting Tesla. You can now tell your car to take you home, or to your favorite restaurant without having to touch the screen. This may seem simple, but it's a huge advancement in technology that helps contribute to safer driving. This is why Tesla is a tech company, not a car company.
Preview of Full Self Driving
Tesla's new update lets the car recognize traffic cones, stop signs and stop lines, trash cans, and stoplights and their colors, if you try to run a stop sign under autopilot the car emergency brakes and forces you to take over after pic.twitter.com/2GYuPEaXPV

— Ayman 📸 (@wholesnack) December 25, 2019
This preview shows us the Driving Visualization Improvements that show more new objects such as stoplights, stop signs and select road markings that haven't yet been seen in previous versions of AutoPilot. However, this is a preview meaning that you are seeing improvements in the software but it's still not yet FSD. So remember to stop at the stop signs and red lights.
Eli Burton got to show Alex from E for Electric just how cool Advanced Summon in his Model S P100D is. The video is 15 minutes long and Eli comes in at about 3 minutes into the video after Alex introduces him.
Eli points out just how independent Advanced Summon is.
"We now have very much AI-driven self-driving feature–no person in the car it backs itself out of the parking lot and navigates itself through open spaces without direct lane lines approaching situations that involve turns and it is doing this without a human involved."
"It is very much a beta feature so when it runs you see it being very cautious moving very slow some of those movements are kind of jerky as it's assessing those situations. It will come up to a place where it has to make a turn and I've watched it wait three or four seconds–there weren't any cars coming but it was clearly assessing the environment and deciding what to do next"
Advanced Summon is still in Beta which is making parking lots kind of fun. Seeing a car drive itself is kind of like watching someone you love learning something new. It puts that human feeling into the mix and makes Teslas, in my opinion, seems more human than any other type of car.
In the above tweet, Michael Liebow has excellent advice. Once you (and your human-like Tesla) get a feel for Advanced Summon, you'll feel more confident as this beta version continues to improve. Many people start out driving in parking lots, so it makes sense to train your Tesla in parking lots as well.
Also, the convenience of Tesla's Advanced Summon will help people when they have a lot of items such as heavy groceries, or if its pouring or any other similar situation.
One of the best perks is safety, as Michael Liebow points out in another tweet below.
Having had to walk through a dark alley a few times in my life (and fend off attackers here and there) I can definitely agree that having a car that drives itself, records everything and lights the way would make me feel safer if I had to cross a dark path to my car.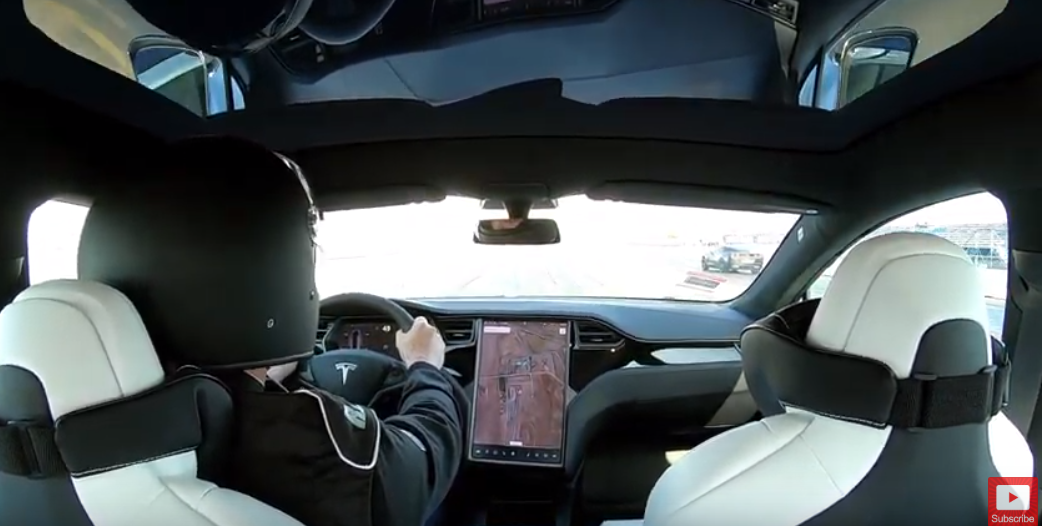 Eli goes back to the drag strip with his shiny new Raven Model S to answer this burning question.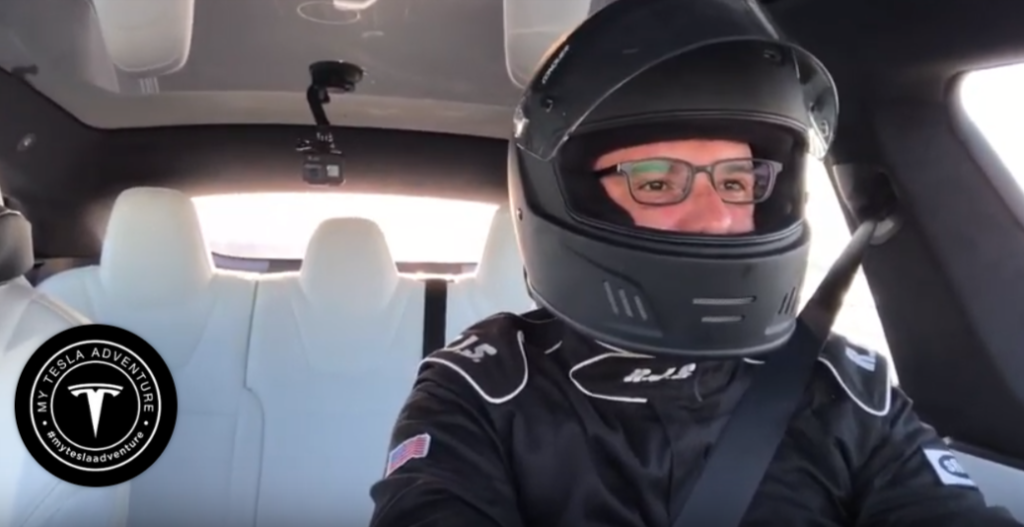 He gives a quick shout out to Juan who towed him and then takes of like a rocket down the strip.
You can feel the sense of excitement as he yells, 'Oh My God!" and we all are cheering for him to fly.
As you can see in the full video below, this is an adventure that almost takes Eli's breath away–but that could be because it's hot.
Tesla has been improving Auto Pilot for a while now, and as Eli demonstrates, Tesla Auto Pilot is now able to take turns in intersections.
One of the goals of Tesla is to change up the way we drive using artificial intelligence and as you can see in the video, it's smooth.
Eli runs a quick test of Auto Pilot by taking a left turn in an intersection. It's a 90-degree angle turn. Eli says 45-degree turn, but he clarifies that in the comment section of the video.
Eli starts from the middle lane and keeps his hands on the wheel, barely touching it as the Tesla successfully completes the turn.
You can hear Eli and his friend in the background hyped up and very excited. This is a small thing to normal drivers, but a huge feat for a company seeking to revolutionize the auto industry in a way that helps us and our fellow drivers.
In a follow up edit, Eli states:
" There is only a line on the left side of the "lane" – there is no lane marker on the right side of the car. I had attempted this intersection just a couple months ago with AP and it barreled straight very early in the turn forcing me to jump in."
Both InsideEVs and Teslarati wrote articles about Eli's video.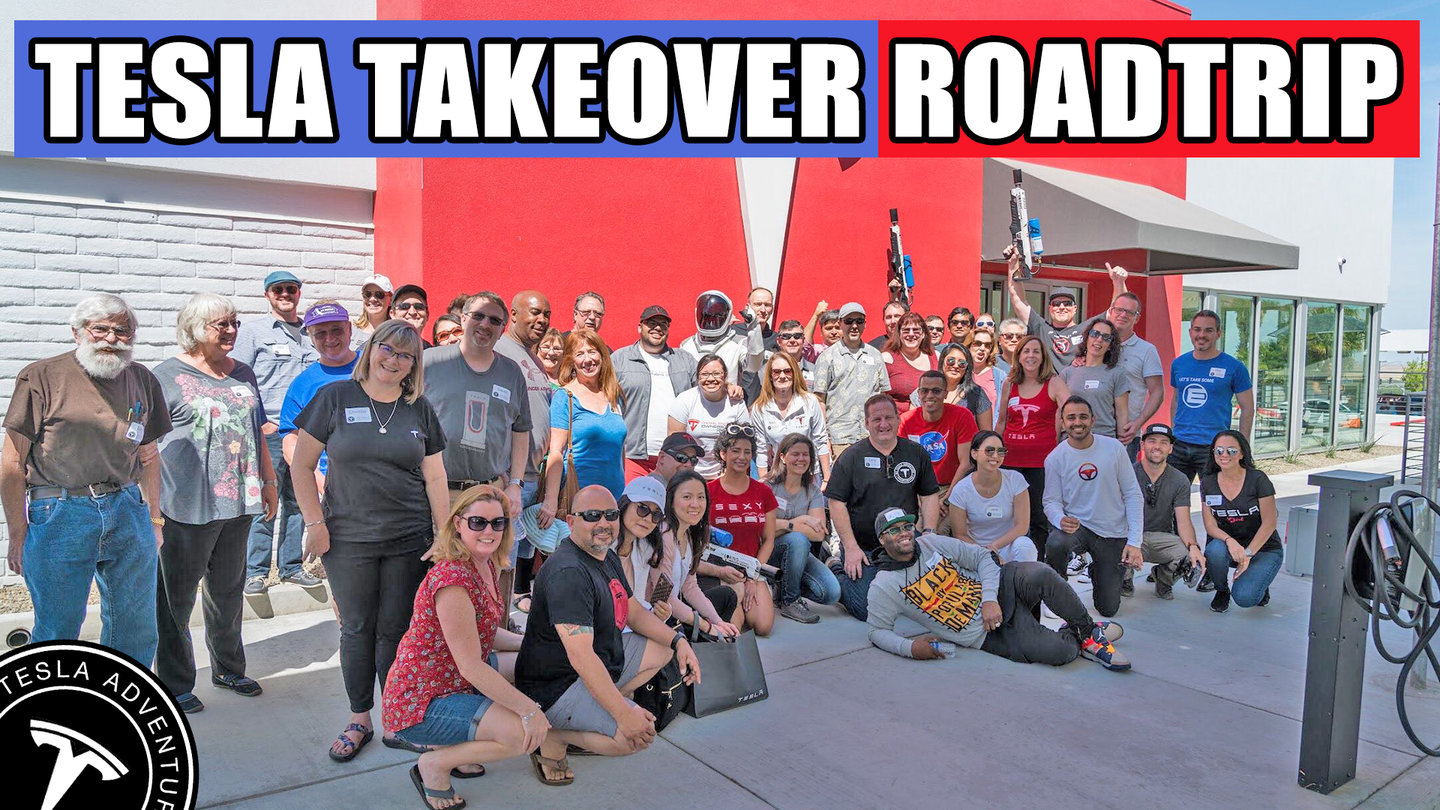 On April 13, 2018, My Tesla Adventure had their second annual My Tesla Adventure Roadtrip and filled up all 40 stalls of the Kettleman City Tesla Supercharger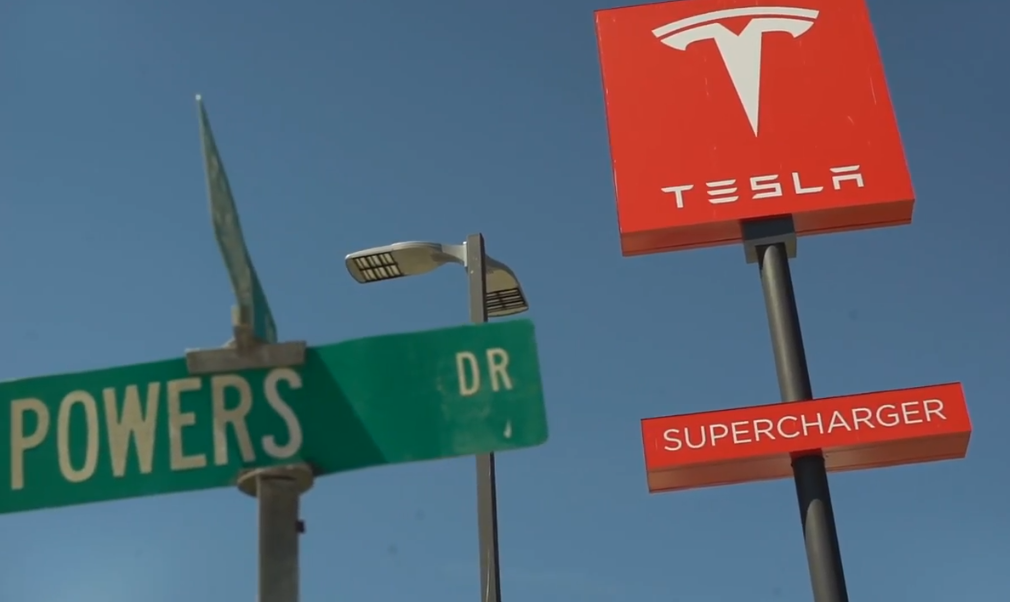 Imagine going to a gas station and trying to befriend other car owners. You're likely to have odd looks or strange, glances aimed your way while the person you are trying to befriend rushes to fill their tanks and go.

At Tesla superchargers, the atmosphere is more relaxed and people are more friendlier. They are also open to sharing their love of Tesla and how they became Tesla owners with you.

So naturally, inviting someone to go on an adventure wouldn't seem strange at all, but fun! And this is just what My Tesla Adventure does.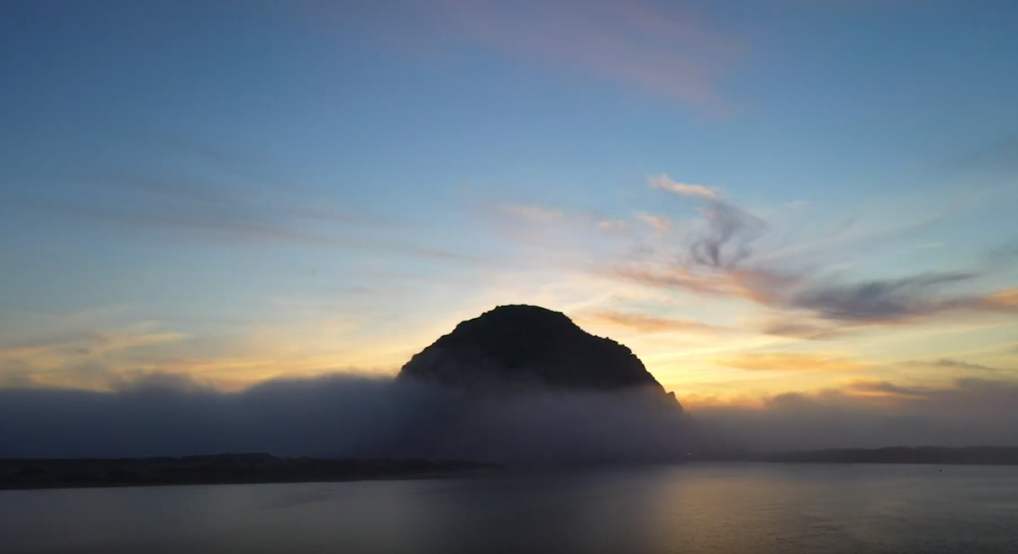 One of the most beautiful things about the Tesla community is how they are open with their love of something that empowers both them and others.

Tesla makes clean energy cars and cuts the carbon impact by tons on a daily basis. This community is supportive of that goal and wants to create a better world for our children and their children.

My Tesla Adventure reminds Tesla owners visually by inviting them to explore the world around them–the very world that Tesla is impacting for the better.
Watch the full video below to experience the 2nd Annual My Tesla Adventure Roadtrip right from your home, office or wherever you are.