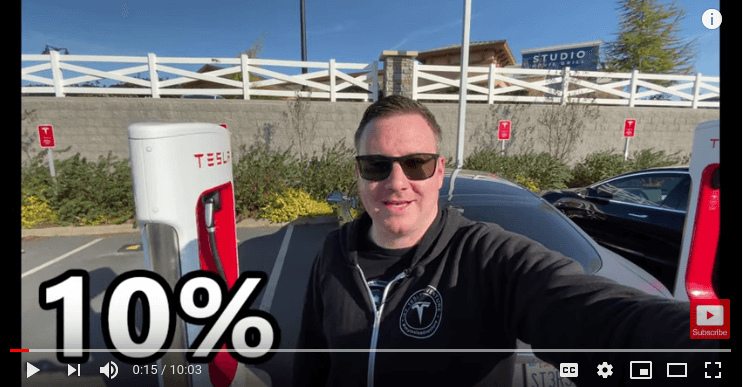 In a new video on YouTube, Eli shows us the speed of supercharging a Tesla with both V2 and V3 Superchargers.
Eli's test will show you how long it takes to charge his Tesla Model S Raven. For the first part of the test, he charges his Tesla at a V2 Supercharger and it was at 10% charge. He charged it up to 80%. After about five minutes, Eli realizes he's getting charge of 54 kilowatts despite the fact that the max charge is 150kw. Eli explains that this is split between two stations. The total charging time took 57 minutes and 21 seconds which is roughly an hour.
The next day, Eli goes to the Tesla Factory to test the V3 Superchargers and arrives, without even trying, just 10% battery. At the V3 Supercharger, it starts off a little slow. It was a little disappointing for Eli, who wanted to get to that peak charge rate. However, it wasn't all a loss and Eli explained why.
At the V2 Supercharger, he had to share his charging power with others. At the V3 Supercharger, even though Eli had folks charging on either side of him, he didn't have to share his charging power with them. He was still able to get up to 155kw of charging power. Eli points out that this is game-changing for Tesla because it allows Tesla to support twice as many cars with the same number of Superchargers since each car spends less time charging at V3 chargers.
At the V3 Supercharger, it took Eli 48 minutes and 32 seconds to charge his car from 10% to 80%. That is just 9 minutes less and to some, that may not make a difference, but overall it will once Tesla upgrades all of the Superchargers to V3 or at least those in Tesla dense cities.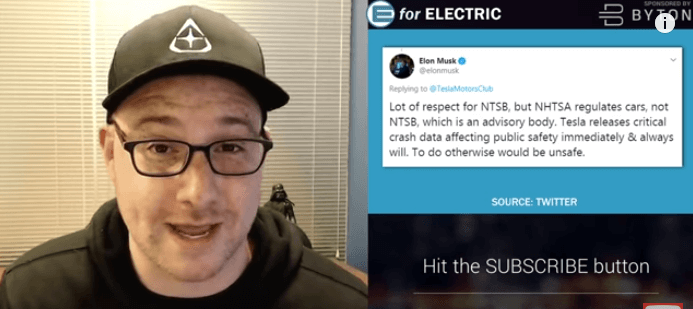 The National Transportation Board made it's ruling in the March 23, 2019 fatal crash of Walter Huang. Huang was driving his Tesla Model X when it veered out of its lane. Autopilot was enabled and it ran into a center divider and Huang paid the price. However, even though Autopilot was blamed, the fact that Huang was playing video games and not really paying attention to the road needs to be emphasized here.
Even though he's not that big of a fan of Autopilot, Alex with E for Electric doesn't get why Autopilot and pretty much everyone but the driver was blamed. The issue that I really can't stress enough is that you as a driver should pay attention to your surroundings. Also, Tesla states it very clearly on its website that Autopilot isn't fully self-driving and that the driver needs to be able to take over at any second. In other words, don't play video games.
Eli starts with a little bit of background on the crash–it's a Model X whose owner worked for Apple and who drove it into the median. One thing that the NTSB found was that there was supposed to be a guardrail that should have been there. It was damaged eleven days prior. The damage wasn't reported by local authorities and that's why it wasn't there–it could have prevented Huang's death.
Tesla, even though the NTSB didn't like it, released its data and it showed that the driver didn't have his hands on the wheel for at least 6 minutes. Tesla also showed that the driver had been warned several times to keep his hands on the wheel. The NTSB criticized Tesla for Autopilot "not doing enough" to prevent Huang's death.
The core theme of the video Eli spoke in is to highlight how absurd it was for the NTSB to blame Tesla especially since Huang was repeatedly warned to put his hands on the wheel and if he had been paying attention, he would have seen that his vehicle was about to steer him into the median.
What I don't understand is how people can just allow the vehicle to drive them into the objects, whether its a median, a fire truck or another vehicle. Common sense should kick in and you should take over. That's just my opinion there.